DELSYS WINS ENVIRONMENTAL AWARD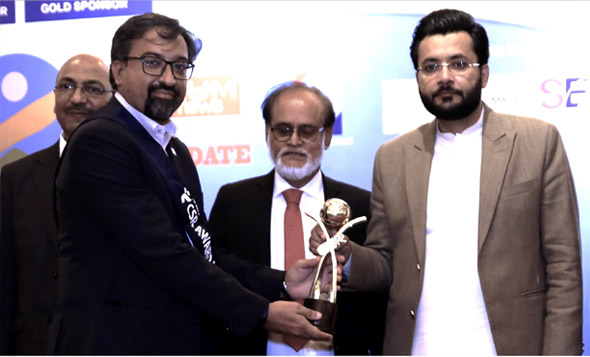 Federal Minister for National Food Security & Research, Mr. Fakhar Imam and State Minister for Information and Broadcasting, Mr. Farrukh Habib presented Environmental Award to DelSys, a home-grown mobile fueling company at the 14 th Annual CSR Convention held at a local hotel in Islamabad.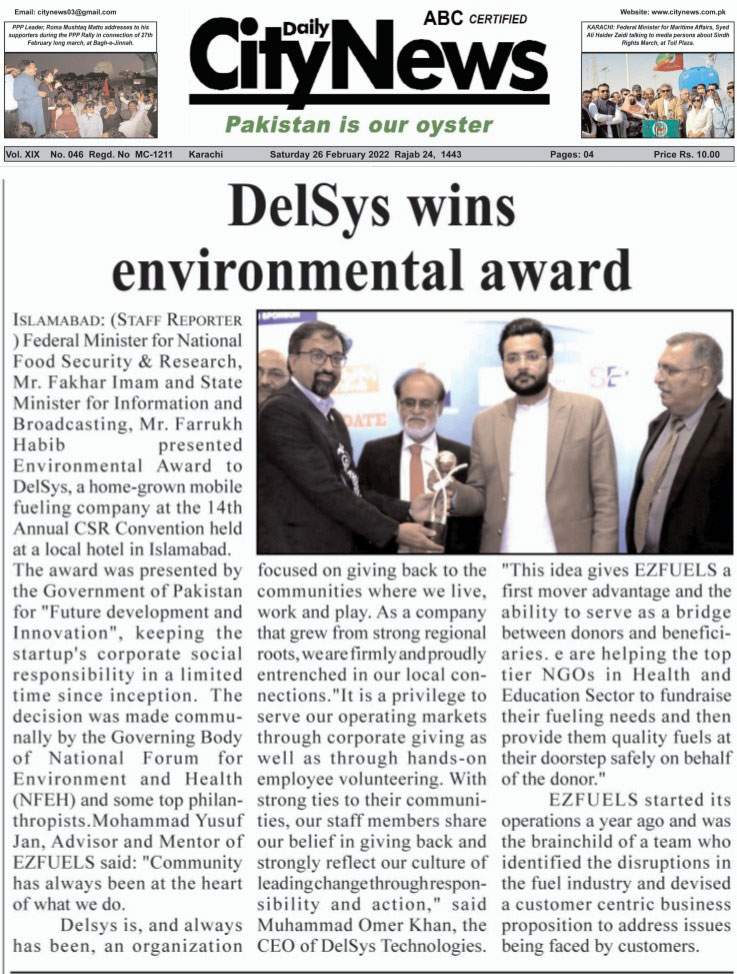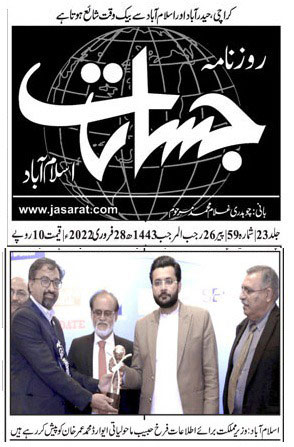 The award was presented by the Government of Pakistan for "Future development and Innovation", keeping the startup's corporate social responsibility in a limited time since inception. The decision was made communally by the Governing Body of National Forum for Environment and Health (NFEH) and some top philanthropists.
Mohammad Yusuf Jan, Advisor and Mentor of EZFUELS said: "Community has always been at the heart of what we do. Delsys is, and always has been, an organization focused on giving back to the communities where we live, work and play. As a company that grew from strong regional roots, we are firmly and proudly entrenched in our local connections.
"It is a privilege to serve our operating markets through corporate giving as well as through hands-on employee volunteering. With strong ties to their communities, our staff members share our belief in giving back and strongly reflect our culture of leading change through responsibility and action," said Muhammad Omer Khan, the CEO of DelSys Technologies.
"This idea gives EZFUELS a first mover advantage and the ability to serve as a bridge between donors and beneficiaries. We are helping the top tier NGOs in Health and Education Sector to fundraise their fueling needs and then provide them quality fuels at their doorstep safely on behalf of the donor."
EZFUELS started its operations a year ago and was the brainchild of a team who identified the disruptions in the fuel industry and devised a customer centric business proposition to address issues being faced by customers. It currently operates in Karachi and aims at developing the market further thus expanding in major cities throughout the country. The company's services are offered through an online platform which delivers fuel at the customer's doorstep in specialized tamper proof tanks which ensures safety and guarantees zero pilferage
DelSys wins Environmental Award – Frontier Post
DelSys wins Environmental Award – City News